Johnna Bond – 6/30/17-7/1/17

JOHNNA BOND WAS MISDIAGNOSED BY DR. FEIT & DR. SCHMONES WITH A CORNUAL PREGNANCY RESULTING IN 41 HOURS OF NO FOOD, WATER OR MEDICATION FOR A PREGNANT MOTHER WITH CROHNS AND ANXIETY, DAYS OF STRESS AND NO SLEEP WHILE BEING SENT TO TWO DIFFERENT HOSPITALS. THE FIRST HOSPITAL WAS THE PROVIDENCE ST. JOSEPH EMERGENCY ROOM WHERE SHE WAS SENT TO ABORT THE BABY WITH METHOTREXATE OR EMERGENCY SURGERY WITH A HIGH RISK OF A HYSTERECTOMY. SHE WAS THEN DISCHARGED WITH NO ADDITIONAL TESTING AND A PORT IN HER ARM TO SELF DRIVE TO LAC+USC MEDICAL WHERE THE DIAGNOSIS AFTER TESTING INDICATED THE BABY HAS ALWAYS BEEN A PROPER INTERUTERINE PREGNANCY WITH NO EVIDENCE OF A CORNUAL PREGNANCY.

INSURANCE CONTRACTED Dr's:

OB-GYN
DR. STEPHEN SCHMONES MD
:
Address: 2625 W. Alameda Ave. #410, Burbank CA 91505
Phone: (818) 843-2826
http://california.providence.org/find-a-doctor/s/schmones-stephen-a/
https://www.healthcare6.com/physician/burbank-ca/stephen-a-schmones-1007000.html
BOARD CERTIFIED DIAGNOSTIC RADIOLOGIST
DR. THEODORE FEIT MD

Address: 2601 W. Alameda Ave. #310, Burbank CA 91505
Phone: (818) 636-6463
http://health.usnews.com/doctors/theodore-feit-483473
https://www.healthcare6.com/physician/encino-ca/theodore-s-feit-667464.html
OB-GYN CALLED BY DR. SCHMONES AT PROVIDENCE ST. JOSEPH TO PERFORM SURGERY
DR. DIANNA JAMES MD

Address: 1433 W. MERCED AVE. WEST COVINA, CA 91790
Phone: (626) 337-8000
https://www.healthcare6.com/physician/west-covina-ca/dianna-james-1348047.html
FRIDAY – JUNE 30 – 2017
10:00 AM
– We (Johnna Bond & husband Michael Szczurko) attended our first appointment with Dr. Schmones to review a history and look at the baby via ultrasound. This was the 3rd time Johnna came to the office; the previous two times were to get bloodwork in the lab on 6/5/17 and 6/12/17 each of those results were positive, but the first time meeting the doctor. We were very excited when we were told we would receive a video and printout of the baby to show friends and family.
11:00 AM
– Dr. Schmones performed the vaginal ultrasound. He was unable to find the baby saying it may be too early to see at this point (8 weeks). He switched to an abdominal ultrasound and again Dr. Schmones could not find the baby. Neither the vaginal or abdominal ultrasound in Dr. Schmones' office were able to find the baby, but also didn't show any other detailed elements of Johnna's abdomen. At this point he stopped looking and referred us to go to a radiologist (Dr. Feit) because his system would be better. Dr. Schmones contacted Dr. Feit, who was able to fit us in immediately. Prior to walking to the radiologist, we asked Dr. Schmones if we should return after the second ultrasound. Dr. Schmones said, no because he has a C-Section appointment from 12PM – 2PM and we wouldn't hear from him until after 2PM and we should setup a follow-up appointment in 10-14 days.

12:00 PM
– We arrived at Dr. Feit's office and began the abdominal ultrasound, no vaginal was given. Dr. Feit located the baby. You can imagine our excitement when we could now see and hear the heartbeat of the baby.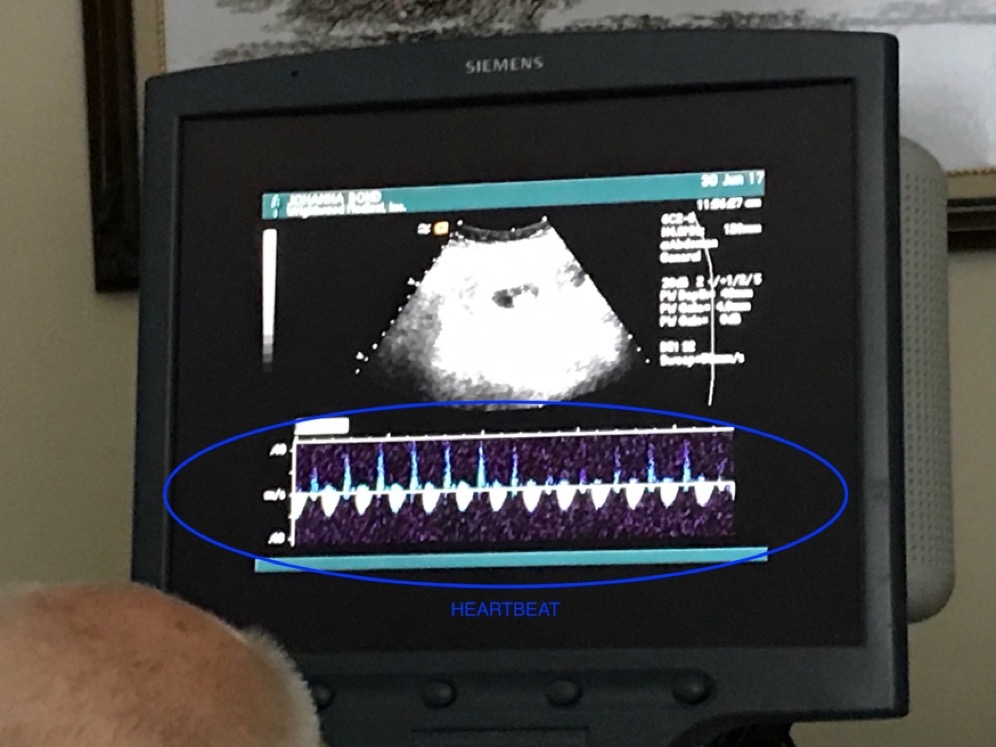 Figure 1 - Heartbeat of Baby

Mike said, "That's a strong heartbeat, isn't it?" Dr. Feit responded, "Yes but a bad pregnancy. I don't like the location." At our request Dr. Feit explained the image we were seeing on the screen.
The photo showing Dr. Feit's explanation of his diagnosis.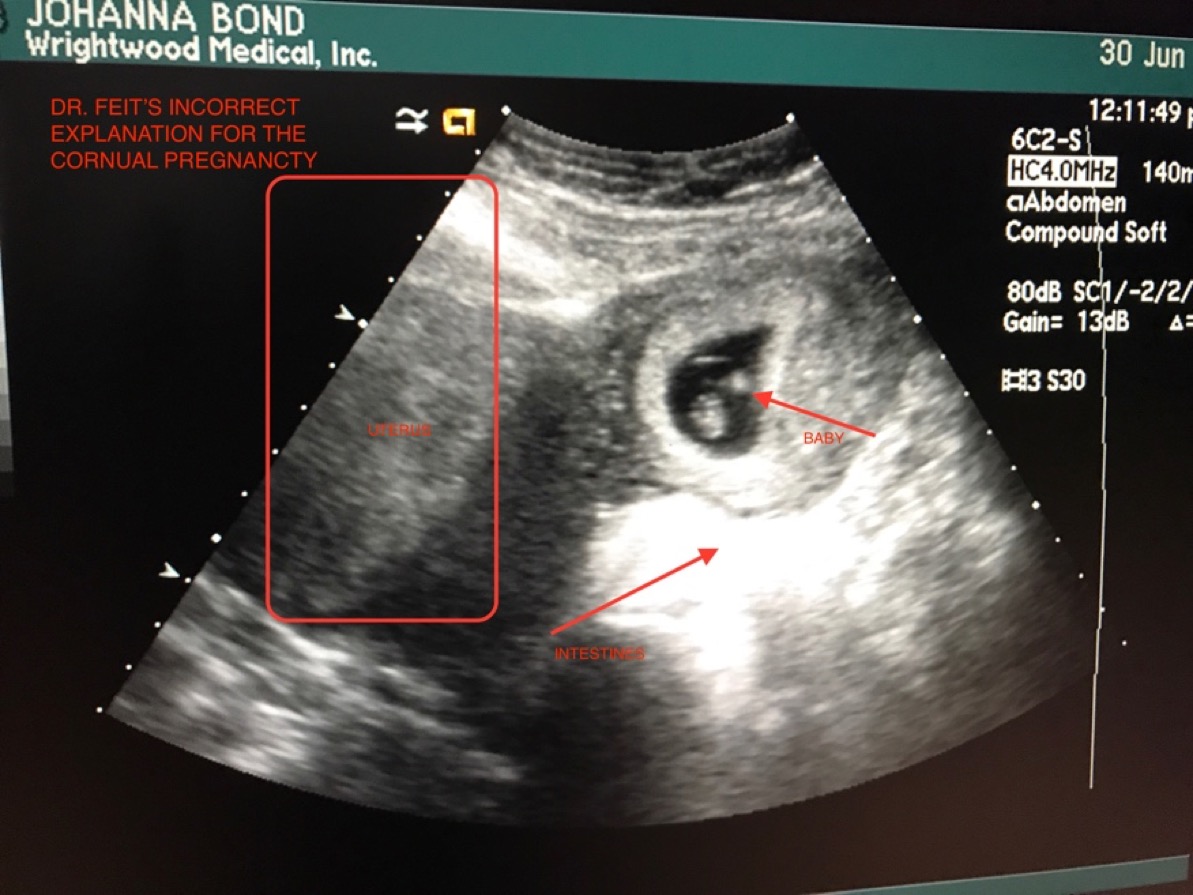 Figure 2 - Incorrect Diagnosis from Dr. Feit – Mistook the Fibroid for a Uterus.

Dr. Feit left the office to call Dr. Schmones, and then Dr. Feit returned and told us that the baby is a
Cornual Pregnancy
, and "the baby will need to be dissolved". We were instructed by Dr. Feit to go directly to the Emergency Room to terminate the pregnancy. He told us that the baby is not in the uterus and not in a viable location for pregnancy but poses a high risk of death to Johnna if it ruptures, which is imminent. We left the radiologist's office and went directly to our car.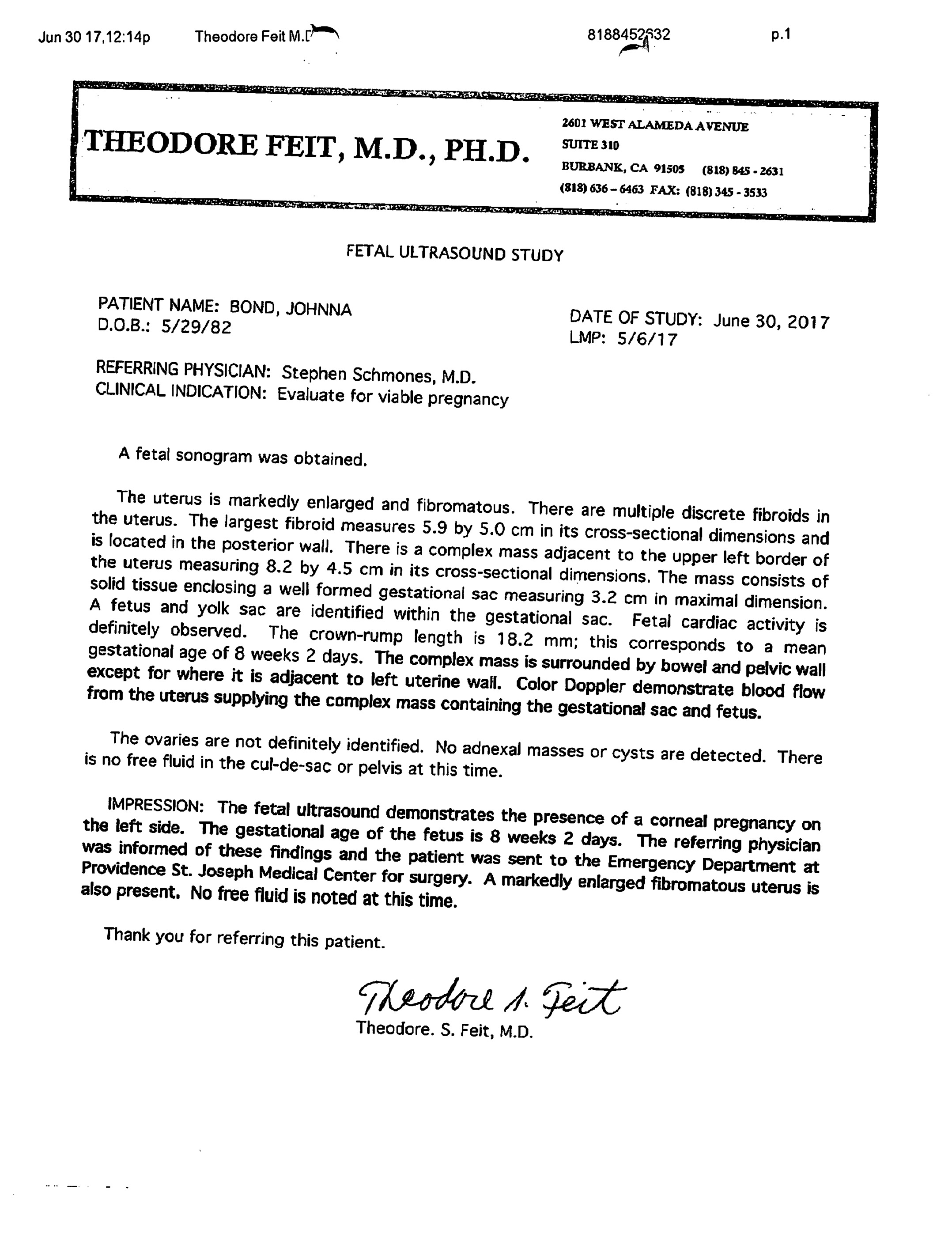 Figure 3 - Dr. Feit Misdignosis of Cornual Pregnancy
12:24 PM
– As we were en route to the Providence St. Joseph Emergency Room across the street, Dr. Schmones called Johnna's cell phone. He mentioned that he spoke with Dr. Feit, agrees with his diagnosis confirming the threat on Johnna's life and is sending over Dr. Dianna James to meet Johnna at the ER and to make sure Johnna asks for
Methotrexate
as it would be the safer option for Johnna to terminate the pregnancy. Surgery is imminent otherwise. The call lasted under 1 minute.


12:30 PM
– We registered at Providence St. Joseph Emergency Room. The registration nurse could not find "Cornual Pregnancy" in their system as a diagnosis, so she said "I'm just going to say abdominal pain." Johnna replied to through tears "I do not have any pain or bleeding." There were no rooms available and we were moved to an area called Hallway 1 where Johnna changed into a gown, gave bloodwork and a urine sample.
The male nurse taking Johnna's bloodwork asked why we were there and we told him, Cornual pregnancy. He responded, that's a rare diagnosis and it has been the 3rd instance that he has encountered in the past 3 weeks.

12:55 PM
– Johnna was given a room, told not to have any food or liquids because the Operating Room had already called down and she has begun being prepped for surgery. We met Dr. Dianna James, and we told her we were supposed to ask for Methotrexate and also asked if there were any other options because we heard a heartbeat and of course wanted to save the pregnancy.
She told us that Methotrexate is not an option with a viable heartbeat and that Johnna is being prepped for surgery. She showed Johnna where she was planning to make the incision horizontally in her abdomen and explained that in addition to removing the baby there would a portion of the fallopian tube and uterus removed as well with a high risk of a full hysterectomy when she is performing the surgery.
Heartbroken, we asked if anything can be done to save the baby and Johnna's uterus and to please look at all of the tests again. Johnna proceeded to explain to Dr. James, about her 2004 surgery for Crohns that the initial images of the 2004 situation were looked at quickly and once they took her into surgery the surgeons were posed with a completely different situation. Dr. James appeared to be receptive, but nervous about taking on a surgery with a Crohns patient. She asked again if there was any pain or bleeding, Johnna replied, "No. never had any pain or bleeding." Dr. James concluded that since Johnna appears stable, she was going to take a little extra time and consult with more physicians about Dr. Feit's & Dr. Schmones' diagnosis.

2:45 PM
– Dr. James consults with other physicians about Johnna's case.


3:10 PM
– Dr. James returned with a nurse, she quickly handed Johnna discharge paperwork, bloodwork results and Dr. Feit's radiology report. She wrote on a prescription pad, and explained to us that she consulted with a Perinatologist at St. Joseph who instructed her to discharge Johnna and send her directly to LAC+USC Medical because they were unable to perform the high-risk surgery and felt a larger hospital would give Johnna more options. The only tests performed at St. Joseph's ER was blood and urine.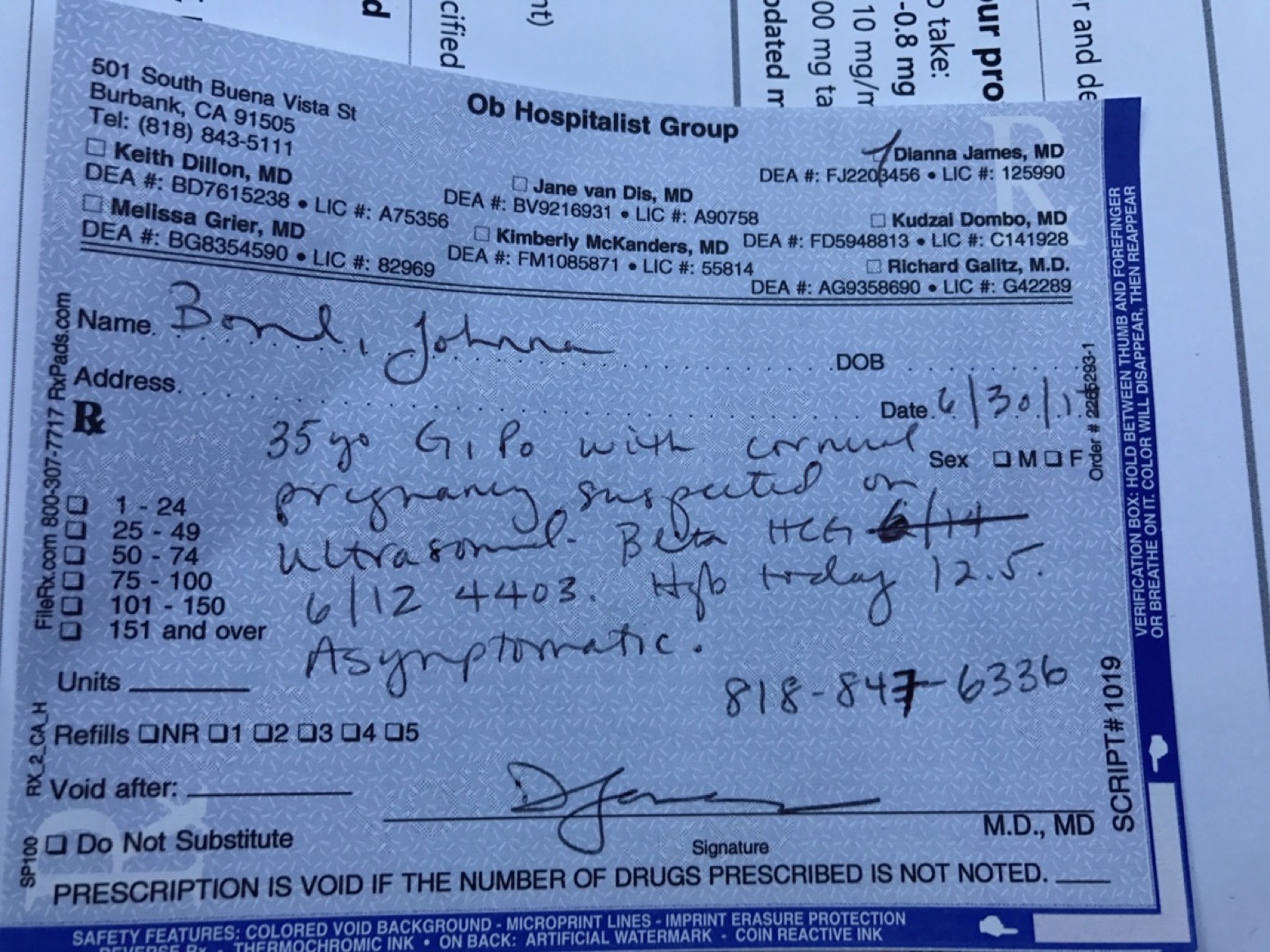 Figure 4- Dr. James' Prescription to go to USC

They wrapped up Johnna's ports instead of removing and instructed Mike to drive carefully to LAC+USC Labor & Deliver triage.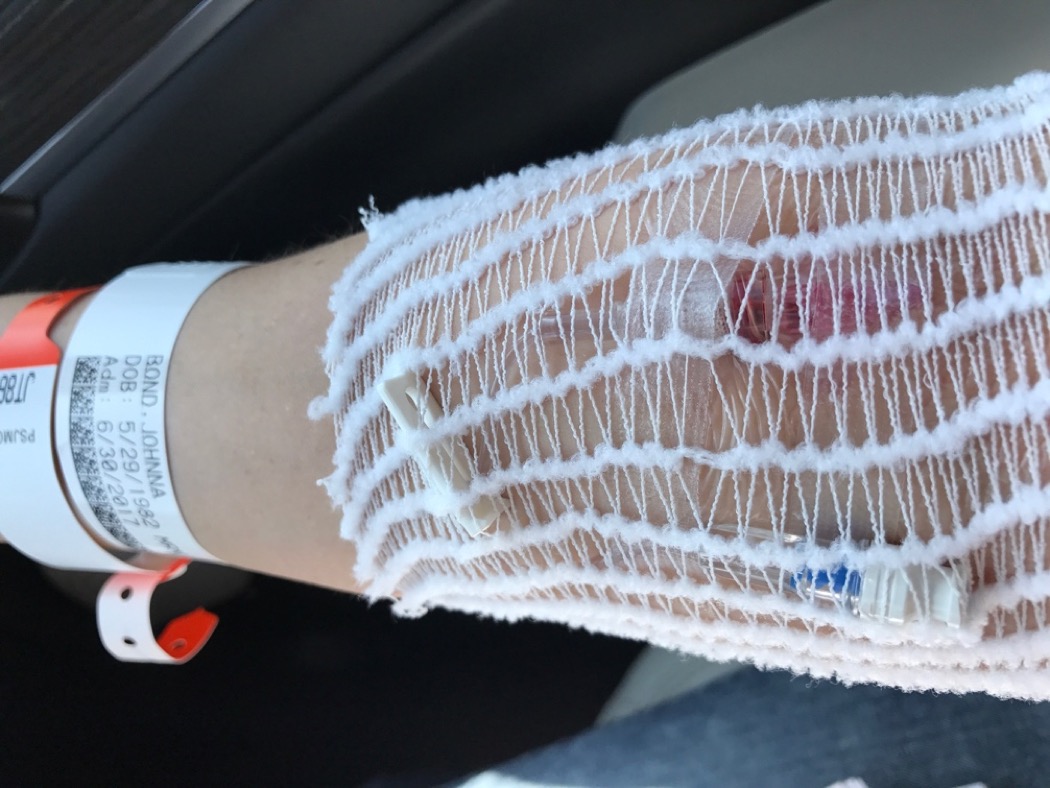 Figure 5 - Wrapped up port for travel to LAC+USC

3:26 PM
– While driving to LAC+USC as instructed by Dr. James, Johnna called a health advisor at Accolade. She explained to the advisor the current situation. Our insurance contracted doctor referred Johnna to the hospital and called in a specific surgeon to perform surgery. That insurance contracted doctor after assessing Johnna determined she was too high risk and had to send Johnna to a higher-level hospital. Under Dr. James' direction and stating it was a dire emergency she directed us to LAC+USC. She felt that was the only place that could do the surgery and we were at the mercy of the insurance contracted provider's direction.

4:15 PM
– Johnna and Mike arrived at Labor & Delivery triage at LAC+USC. They were not informed of our arrival. We handed them all of our paperwork and the explanation from Dr. James. They began their independent assessment, including urine and lab work.

6:56 PM
– Johnna was taken to an ultrasound at LAC+USC. The lab tech began with abdominal ultrasound and mapped all of the fibroids and the baby which confirmed a strong heartbeat. It was obvious the baby was not Cornual and was in the proper location. The lab tech performed a vaginal ultrasound, had no issues finding the baby immediately which was consistent with the abdominal location. Mike showed the Lab tech the photo from Dr. Feit's office, unprompted she explained where the uterus
ACTUALLY
is in this photo as opposed to Dr. Feit's explanation of the fibroid being the uterus. We returned to Labor & Delivery to await results of the ultrasound.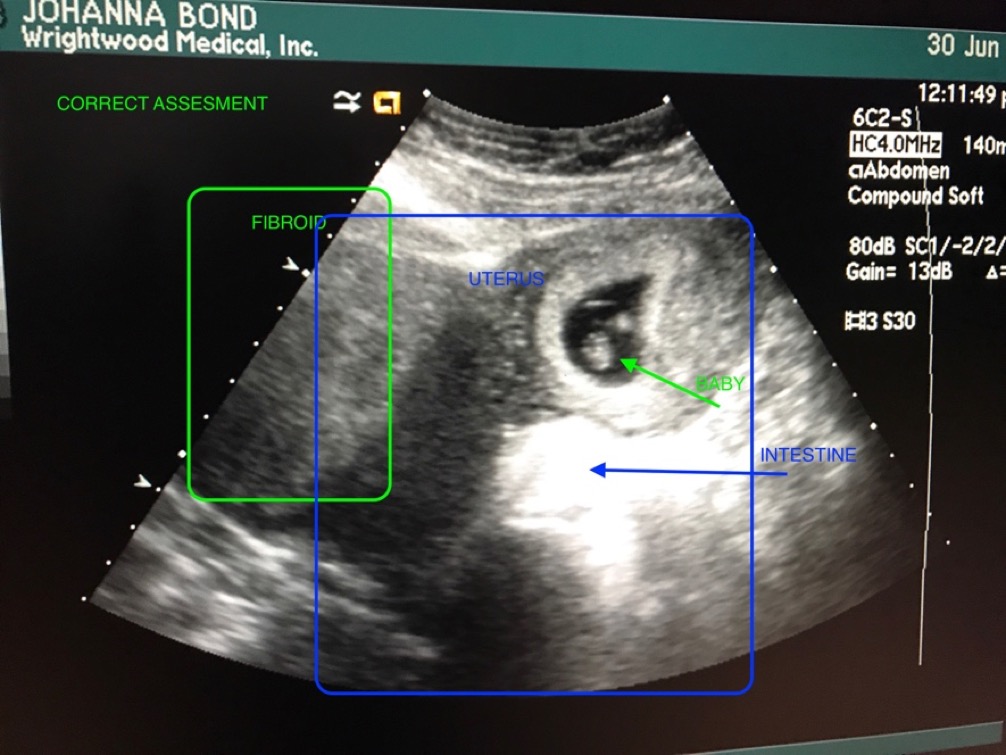 Figure 6 - Corrected assessment of image
8:46 PM
– The USC doctor examined the ultrasound and confirmed the suspicion that the baby is not in fact Cornual, instead is in the proper healthy position. If we had not come to LAC+USC with the life threatening Cornual Pregnancy diagnosis, at this point, LAC+USC would have released us with a clean bill of health.
Now the Dr. needed to confirm with the entire USC obstetrics team to rule out the Cornual Pregnancy. They performed a pelvic exam and an MRI to officially rule out the misdiagnosis of Cornual pregnancy by Dr. Feit and Dr. Schmones.
Johnna was admitted under the instructions to continue to abstain from any food, water, and medicine due to the life-threatening diagnosis from Dr. Feit and Dr. Schmones while the Doctors at LAC+USC continued to disprove the incorrect diagnosis.





SATURDAY – JULY 1 – 2017

6:00 AM
– Johnna was taken for her MRI

7:00 AM
– While Johnna was in the MRI, Mike spoke with a different Doctor from the obstetrics dept. She explained the risk factors of the fibroids found during the ultrasound and recommended to get a high-risk OB for the fibroids but also agreed that the pregnancy is not a Cornual Pregnancy and is confident the MRI would confirm that finding.

8:00 AM
– Johnna returned from MRI

1:00 PM
– At this point Johnna had not eaten any food, water nor given and any of her prenatal medicine or her Zoloft for 41 hours due to this misdiagnosis. We asked the nurse if she can eat while we wait for the entire department signoff of the MRI results. They spoke to the Doctor, who confirmed it was safe to give Johnna food, water and medicine.


5:00 PM
– An LAC+USC Doctor told us that the findings from Dr. Feit and Dr. Schmones were in fact misdiagnosed. There never was a Cornual Pregnancy, the baby and Johnna are healthy and no surgery or Methotrexate is needed. This doctor reiterated the need for a high-risk OB for Johnna moving forward due to fibroids and would love the treat her through the pregnancy but they are out of her network.







IN SUMMATION:

This is our first baby which we have been trying to conceive for years. Our first ultrasound of seeing our baby and hearing its heartbeat and sharing this first-time experience with friends and family was taken from us and replaced with fear, looming death of both the baby and Johnna with a strong possibility of no future children if the misdiagnosed surgery resulted in a hysterectomy. Not to mention the financial impact of this misdiagnosis.
Dr. Schmones recommended a chemical treatment to abort a healthy baby in a viable position based off of Dr. Feit's misdiagnosis without additional testing. Even though Johnna was asymptomatic.

UPDATED: 7/11/17 – Per an email correspondence with Andrea Joy in Dr. Schmones' office, she stated that in requesting any notes/medical paperwork, Dr. Schmones never looked at the actual ultrasound before diagnosing the Cornual Pregnancy and recommending Johnna to take the Methotrexate ASAP. Email below…

The stress for an expectant mother, let alone one who also has Crohns Disease (stress induced autoimmune disease) was unnecessary and could have been avoided by more diligence in the diagnosis from Dr. Feit and Dr. Schmones.
It was by the grace of God and our own persistence at each checkpoint to avoid the imminent tragedy set in motion by those two doctors.
All medical procedures, tests and hospital admissions were a direct result of the misdiagnosis from Dr. Feit and Dr. Schmones and we followed the instructions of the Insurance contracted providers as we were told both lives were at stake. The stress of this experience does not end just because Johnna was discharged from the hospital ultimately never having had a life threatening issue.